Oregon Scientific WMR100

Weather has been a long-time interest of mine since I was a young kid. I've always been fascinated by any kind of storms from a heavy rain to gale force winds to my favorite kind of weather, snow. I remember such events like a windstorm in the late 1980's knocking out power, a loud and windy thunderstorm, several snow events, but I was finally hooked when the December 18th, 1990 convergence zone snow storm hit. I'm not sure if it was the wide spread power outage, the deep powdery snow, or the rate at which it all came down, or the wind storm that followed that evening, but it remains one of my most vivid weather memories.

In the mid-late 90's I started documenting weather events whenever I could by photograph. I had also been playing with various thermometers outside to learn what areas were hotter or colder than other areas at different times of the year. At one point I was using a wireless indoor/outdoor digital thermometer that saved the high and low temperatures. I started recording daily high and low temperatures using that thermometer and kept a log for quite some time. It was only a matter of time before I got a full blown weather station.

I was living in a private community east of Gold Bar, Washington along State Route 2. The Skykomish river valley cuts through the foothills in this area, with mountains rising 5,000 - 6,000 feet tall from either side of the valley. The Skykomish ran in the backyard about 30 feet away from the deck. At that time, I was working in Everett and spent a lot of time visiting friends and family in the Shoreline area. The weather was often very different from the Puget Sound to the foothills, even though the elevation was about the same. There was little information about current weather conditions in Gold Bar in 2007.

I ended up purchasing my first weather station, an Oregon Scientific WMR 100. It came with a bundled software package that was a trial version for 30 days. I set it up and made a small basic web page to display it on, so I could check on it from anywhere I had internet. I liked the way the software worked so much that I ended up getting a full license for it and running it 24/7. That small basic webpage eventually evolved into what is now shorelineweather.com. The software I am using is called Weather Display and you can click on the name to visit their website.

The station was a wireless unit which ran on AA batteries so there was a need to make it easily accessible. Initially I had it mounted to a 4-foot 4x4 post but quickly realized that was way too close to the ground to pick up any good wind speeds. I constructed a new mast, using a 4x4 8-foot post and an 8-foot 2x4 to get the height nearly 18 feet up in the air. I used bolts to rig up the mast so I could swing it down for battery replacement and cleaning. I learned that alkaline batteries do not work well at temperatures at and below 32℉.

Today this is still the current set up for the North Ridge station. I am planning to replace this set up with a galvanized push poll mast.

In the summer of 2008 I moved from Gold Bar back into the area of my hometown, Shoreline, Washington into an apartment. My parents offered to host my weather station at their house as a permanent location. As of September 2008 the Oregon Scientific WMR 100 became what is now known as the North Ridge weather station. I use the North Ridge station as a running average and record for Shoreline Area News weather reports. The Oregon Scientific WRM 100 was in service up until January 2016 when the temperature sensor failed. More on that here.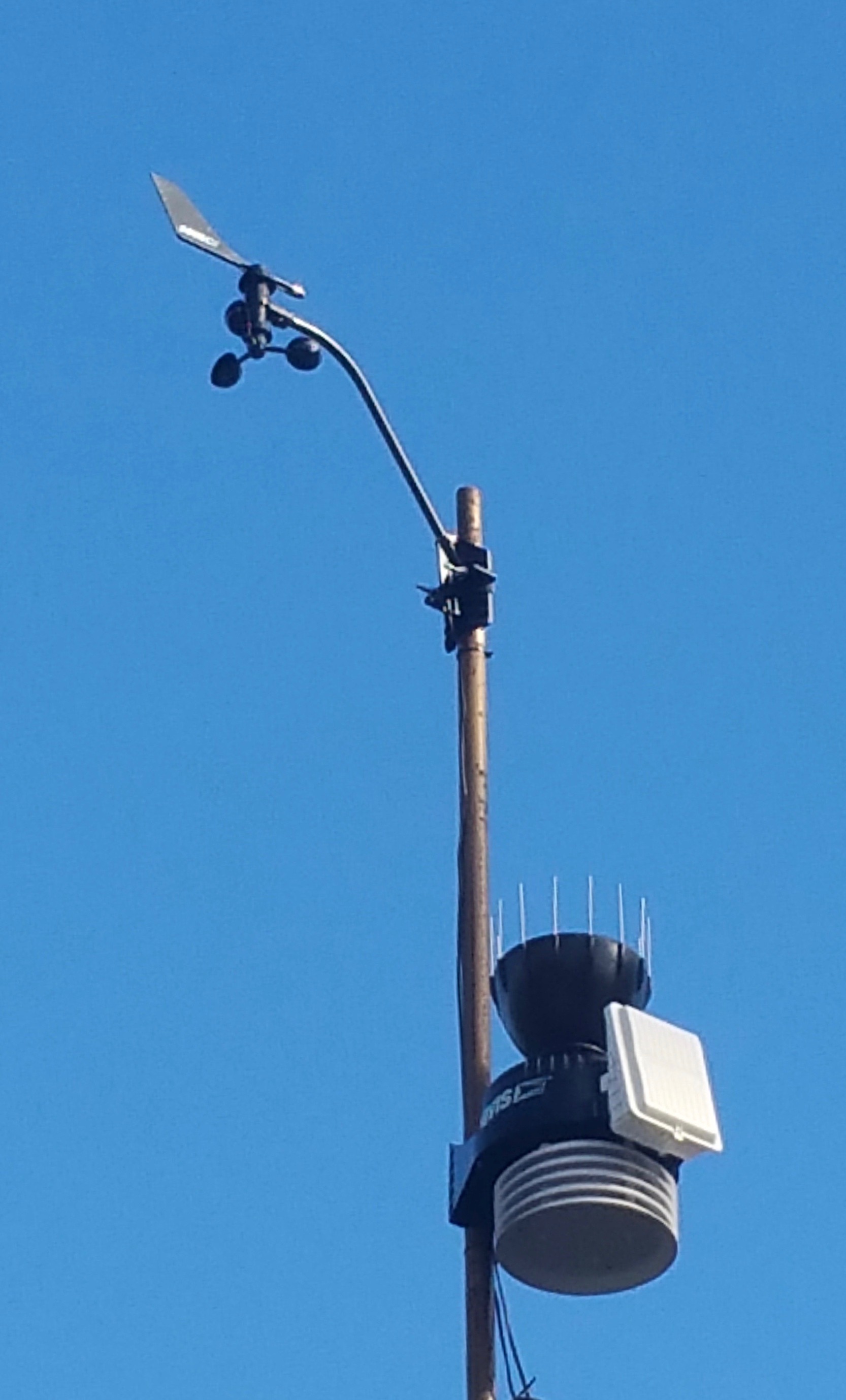 Davis Vantage Pro 2

In August 2018, long time friends offered to host a weather station at their property in the Richmond Beach neighborhood of Shoreline. Over the years of writing weather reports for the Shoreline Area News I had a lot of readers ask me if there was a weather station near Richmond Beach. Surprisingly no one had one set up that was accessible online, before now.

I choose a Davis Vantage Pro 2 Cabled weather station array. The main reason I went with this model is because this site is not sheltered by tall Douglas fir trees as my North Ridge station is. This means wind is not blocked from most or all directions. The Davis instruments stations do particularly well with recording wind speeds and wind gusts. Many of the area personal weather stations I've looked at for windstorm data around the Puget Sound have come from the Davis Instruments weather stations. I'm looking forward to stormy seasons to come to see how this new site performs, and to see the difference in micro climates from North Ridge (north central Shoreline) and Richmond Beach.